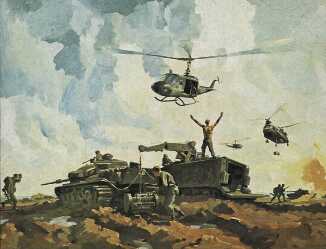 There is no doubt that most of us are familiar with the prominent Corps artwork depicting repairs to a Centurion Tank in Vietnam. But how many of you know the origins of the painting? The painting currently resides in the foyer of the Army Logistic Officers Mess. The following text is reproduced from Maintenance Cell precis and provides an insight into the history behind the painting.
On October 29th, 1971 Brigadier Bendall told the Corps Committee that he and Colonel R.D.White had met Mr.McFadyen, who had suggested that a painting depicting repairs to a tank by a forward repair team and with a helicopter delivering a spare engine might be suitable. It was necessary to know whether such a combination of events had ever occurred, but it was confirmed during the Committee's discussion that helicopters had been used in this way. The Committee approved the suggestion and Mr.McFadyen then painted his subject on a canvas approximately 3 feet by 2 feet. The inscription on the work reads, AFV Repair in the light green Vietnam November 1969. K.G.McFadyen. There is no record of when the painting was received; however, it was either late 1971, or sometime in 1972.

The caption to the painting describes a day in the life of a Craftsman. "In November 1969 a troop of gun tanks supported by an ARV became bogged in the light green east of the Long Hai Hills in the Phouc Tuy Province of the Republic of Vietnam. In addition to the bogged vehicle, two gun tanks were immobilised, one with gear box failure and one with a final drive failure. Whilst the crews and the ARV, with sterling efforts on the "Shovels, GS (AUS)" extricated the two serviceable gun tanks, a Forward Repair Team was deployed from 106th Field Workshop to provide the lift necessary for replacement of two failed MUA's. TheM113A1 (Fitters) transported the gear box (inside the vehicle) while the final drive assembly was lifted in by CH47 Chinook. The repair and resupply operations were timed to enable the CH47 to back haul the two repairable assemblies. The operation was conducted over a seven hour period. The organic RAEME commitment was an ARV, crewed by two Recovery Mechanics, one Electrician and three Vehicle Mechanics. The non-organic support was provided by, 106th Field Workshop Forward Repair Team comprising, one M113A1 (Fitters) crewed by three Vehicle Mechanics. Troops involved were from a Troop from 1stArmoured Regiment consisting of four main battle tanks under command of SGT Browning (RAAC) on operation control to a company of Australian Infantry.