Japan 1946
WO1 "Guns" Leslie John Hildebrandt enlisted in the regular army from his home town of Bendigo as an apprentice on the 29th May, 1941. He was aged just 15 and he would not have known then, that he was part of the famous 'first 100' apprentice entrants into the Australian Army. For more interesting information on the First 100 please check the archives of "The Craftsman" and in particular issues 1 – 3.
His allocated number was 7389 and he then came down to the big city of Melbourne in November 1941 where he was posted to the Broadmeadows Workshops (later called 3 Base W/S) and also studied theory and non-trade subjects at Essendon Technical School which had only commenced activities in 1939.
On completing his studies and trade qualifications he was released to the AIF on the 21st March 1944 with a rank of private which was later amended to Craftsman when he entered the AEME corps.
In February 1946, Les was transferred to 348 LAD (Light Aid Detachment – AEME) for deployment to Japan as part of the BCOF (British Commonwealth Occupation Force). 348 LAD was based in Kure (about 20kms south of Hiroshima) and supported 1 ACS (Armoured Car Section) and provided other forms of assistance to restore the local infrastructure.
He departed from Sydney on the "Pachave Victory" on 29th March 1946 and following his promotion to Lance Corporal on the 9th March 1946 and service in the BCOF, he returned to Australia on the "Kanimbla" on the 9th November 1947.
On return he was posted to 3MD in Broadmeadows, became a member of the newly renamed RAEME in 1948, married in December 1949 and completed various assignments in the corps as is usual for members of the regular army.
Many further courses and study were completed and he was promoted accordingly through the system.
Corporal 20th December 1950
Sergeant 16th March 1951
Staff Sergeant 5th May 1952
WO2 1st June 1955
WO2 Hildebrandt then was deployed to Malaya during the "Communist Insurgency and Malayan Emergency" for a posting to Butterworth on the mainland in direct support of army and airforce units positioned at the airbase.
On 6th October 1955, WO2 Hildebrandt departed from Sydney on the 'Georgio'. After settling in he called for his family (wife Shirley and sons Robert and Richard) to join him on Penang where he was billeted for the duration of his appointment.
The family returned after a successful posting, departing from Georgetown, Penang on the 'New Australia' arriving back in Melbourne in early November 1957.
A two year posting to the Area Base Workshop in Puckapunyal was his next assignment following which he was transferred back to his old stomping ground of 3 Base Workshop Broadmeadows in Sept 1959.
Following his award of the LS & GC medal (Long Service and Good Conduct) in 1960, he was promoted to Warrant Officer Class 1. Checking his records he was appointed WO1 GP P6 Art. (Gun) and his constant affinity to artillery and guns most probably lead toward his nickname in the corps of "Guns" Hildebrandt.
WO1 Leslie Hildebrandt aged 38 being presented with his LS & GC medal by the Corps Brigadier on 10th December 1963. Khaki summer dress and ceremonial slouch hat.
Further service at 3 Base Workshop during the 60's ensued until he was admitted to Repatriation General Hospital at Heidelberg on the 28th September where during treatment for hypertension he suffered a massive stroke which severely disabled him. His health continued to deteriorate through the next few months and he died of his illness on the 3rd April 1966 at the tragically young age of 40.
Leslie John Hildebrandt was a popular and charismatic member of the armed forces and particularly so in the RAEME he so loved. Because of his loyalty and wide-spread service, he had made many friends in his military life and as a consequence his funeral was a very large affair conducted with full military honours for this serving soldier.
It is now many years since his passing but for those of us who can remember him he is never to be forgotten.
Robert John Hildebrandt
Additional Photos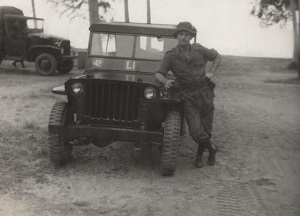 WO2 Leslie Hildebrandt aged 29 leaning on his Willy's jeep in late 1955 at Butterworth Air Base during the "Malaysian Emergency". Shown in his current style jungle green uniform and rubberised jungle boots and web belt. He is wearing the American style 'giggle' hat coming into vogue around d that time and worn right though the Vietnam conflict.
L/Corp Leslie Hildebrandt aged 21 horsing around with his other 348 LAD mates, just outside Kure Japan in landscape covered with snow which I am sure he had never seen before.